After a very busy 2014 and a well deserved extremely short break, The Chamber of Mysteries will be kicking off this year's run of weekly shows with some extra added changes!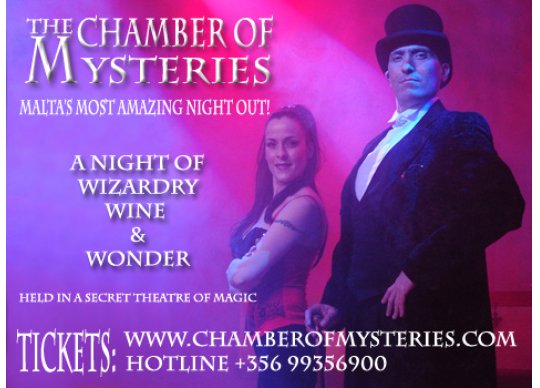 Running into 4 years of continuous shows, this year was the time for a few changes during the show, with new acts, more mind baffling effects, extraordinary mind reading and predictions and some other surprises which we can not announce!
In addition to the new acts, the show has finally been given a name, a word that audiences have used to describe us several times, 'Mystify'. On the 14th of February there will be a very special show called 'Love is in the Air' dedicated to lovers complete with a fantastic menu making this one extraordinary romantic evening out! A truly unique gift! Click the picture below to visit the Chamber of Mysteries website.
The Chamber of Mysteries Dinner Show Malta has been awarded TripAdvisor's Certificate of Excellence in 2012, 2013 & 2014, true to its slogan being Malta's Most Amazing Night Out!
Please follow and like us: